What is PSMA?
Prostate specific membrane antigen is a membrane surface antigen present predominantly in most prostate cancer cells, and few other cancers.
This membrane antigen is exploited as a target in theranostics using gallium(68-Ga) and lutetium(177-Lu) for imaging and therapy respectively.
What is 68-Ga PSMA and what is its mechanism of action?
68 gallium is a PET radionuclide which is often labelled with PSMA for the purposes of diagnostic imaging. Gallium is a positron emitter similar to F-18, but with a slightly higher positron range. The radiopharmaceutical is injected into the patients blood, and binds to the PSMA transmembrane antigen, and gets internalised into the cell. This is then imaged.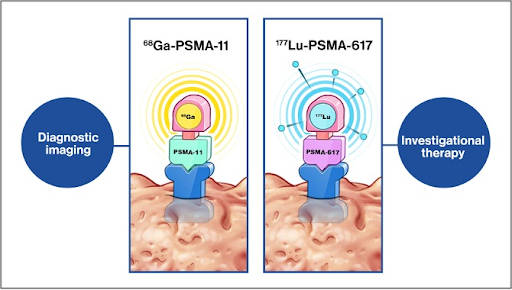 Mechanism of action of radiolabelled PSMA. Note that the ligands binding Lu-177 labelled PSMA(PSMA-617) and Ga-68 labelled (PSMA-11) are different.
What is the biodistribution of Ga-68 PSMA PET CT?
Biodistribution of Ga-68 PSMA includes – liver, spleen, kidneys, urinary bladder, small bowel loops, salivary and lacrimal glands.
What are the indications for 68 Ga- PSMA PET scan for carcinoma prostate workup?
⦁ Used for baseline staging of individuals diagnosed with carcinoma of the prostate.
⦁ Newly diagnosed unfavorable intermediate, high-risk, or very high-risk prostate cancer
⦁ Used for response assessment in patients with carcinoma prostate, post surgery/hormonal therapy/chemotherapy.
⦁ Used for restaging, in cases with rising PSA levels/clinical suspicion. It can also thus be used to assess the site of recurrence – to plan optimum therapy.
⦁ In cases of elevated PSA, in whom biopsy is inconclusive – to identify neoplastic focus, to help guide subsequent biopsies.
⦁ In biopsy negative cases, with elevated PSA levels and high degree of clinical suspicion.
⦁ PSA persistence or PSA rise from undetectable level after radical prostatectomy/ RT
What are the other cancers that express PSMA?
Glioblastoma, thyroid cancer, renal cell carcinoma, hepatocellular carcinoma, lung cancer, and breast cancer.
These tumours generally are associated with a high degree of neovascularization. PSMA receptors are also found in the endothelium of neo-angiogenic vessels. The specificity of the SCAN for prostate neoplasms is about 90-93%.
The upside of this fact is that tumour cells expressing PSMA can be targeted with beta and alpha emitters labelled to PSMA, for therapeutic purposes.

Metastatic carcinoma prostate – PSMA receptor expression noted in multiple skeletal sites as visualised in the MIP images.
Axial sections at the level of the pelvis – shows PSMA receptor expression at the sites of osteosclerotic bony lesions.
What is the patient preparation required?
⦁ Patients are urged to maintain good hydration levels.
⦁ No other specific preparation.
⦁ Patients need not maintain NPO status for the scan.
⦁ Patients need not stop any drug they may be taking for other ailments, before the scan.
What are the side effects of a Ga-68 PSMA scan?
⦁ There are no documented side effects due to the radio-tracer itself.
⦁ There are no documented cases of atopy/anaphylactic responses to the drug.
What is the procedure of the scan?
⦁ The drug is injected intravenously.
⦁ PET/CT is acquired 45-60 minutes after injection of the tracer.
⦁ Typically a scan lasts for 10-15 minutes.
⦁ Total duration of stay in the hospital is around 2-3 hours.
Specific advice to patient post Ga-68 PSMA:
⦁ Avoid contact with infants, children, pregnant and lactating women for 10-12 hours post tracer injection.
⦁ Ensure adequate hydration to enhance elimination of tracer via urine.
⦁ No other specific advice.
References:
⦁ Palot Manzil FF, Kaur H, Szabados L. Gallium-68 Prostate-Specific Membrane Antigen Positron Emission Tomography: A Practical Guide for Radiologists and Clinicians. Cureus. 2022 Mar 7;14(3):e22917
⦁ Lenzo NP, Meyrick D, Turner JH. Review of Gallium-68 PSMA PET/CT Imaging in the Management of Prostate Cancer. Diagnostics (Basel). 2018;8(1):16. Published 2018 Feb 11. doi:10.3390/diagnostics8010016
⦁ Hossein Jadvar, Jeremie Calais, Stefano Fanti, Felix Feng, Kirsten L. Greene, James L. Gulley, Michael Hofman, Bridget F. Koontz, Daniel W. Lin, Michael J. Morris, Steve P. Rowe, Trevor J. Royce, Simpa Salami, Bital Savir-Baruch, Sandy Srinivas and Thomas A. Hope; Appropriate Use Criteria for Prostate-Specific Membrane Antigen PET Imaging; Journal of Nuclear Medicine January 2022, 63 (1) 59-68